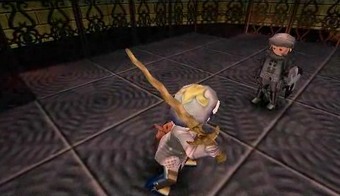 Dark Hype is the antithesis of virtue, that protects the Jewel of Virtue. He is the evil version of Hype. His sword beams last a longer time than Hype's and he can fire his crossbow at a faster rate. He is also able to cast Dragon spells before Hype is able to.
Appearance
Edit
He has a grey and black version of the lost armor, and has an inverted fleur de lis as his livery. This means that he is the counterpart of Hype, and therefore, a counterpart of virtue.
Fight Style
Edit
When fighting with Hype, the Dark Hype uses magic, bolts, and his sword. He can use Electricus Magicum Dragon, Magia Glacia Ring, and Electricus Magicum Trinity. When attacking with his sword he will move from side to side while hiting Hype, but sometimes he will sheate his sword, walk towards Hype, unsheate it and hit him. When fighting with his crossbow, he will try to hit Hype with 3 bolts, then he will continue fighting with his sword.