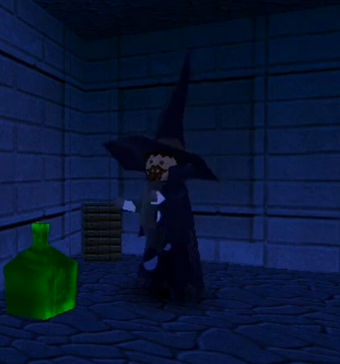 Enost is an evil wizard that was the advisor and magician of Taskan III, but switches his alignment to the black knight's side, and builds a dark tower for Barnak.
Era of Taskan II
[
]
In the era of Taskan II, he was imprisoned in The Laboratory by Rajoth, but rescued by Hype.
Era of Taskan III
[
]
In the Era of the good king Taskan III, Enost is the king's advisor and magician. He wrote everything about Hype in his almanac. In the end, he betrays him and starts building s dark tower for dark knight Barnak. He also flees with his almanac and even takes some men with him.
He built The Dark Tower so that Barnak would feel like home, and also built a new body for him so that he will be alive when the Dark Knight invades the kingdom. He wanted to do it as soon as possible because at his age, he would soon be unable to work or even walk. His armour had a falling problem, which Hype exploits to take the almanac. He then went to fix it with some wire.
Era of Taskan IV
[
]
In the era of Taskan IV, Enost became a robot by attaching to his body the armour he made. He referenced himself as "Armored Enost". He masters both science and magic. It made an implosion after it was defeated by Hype, which also took his keys.